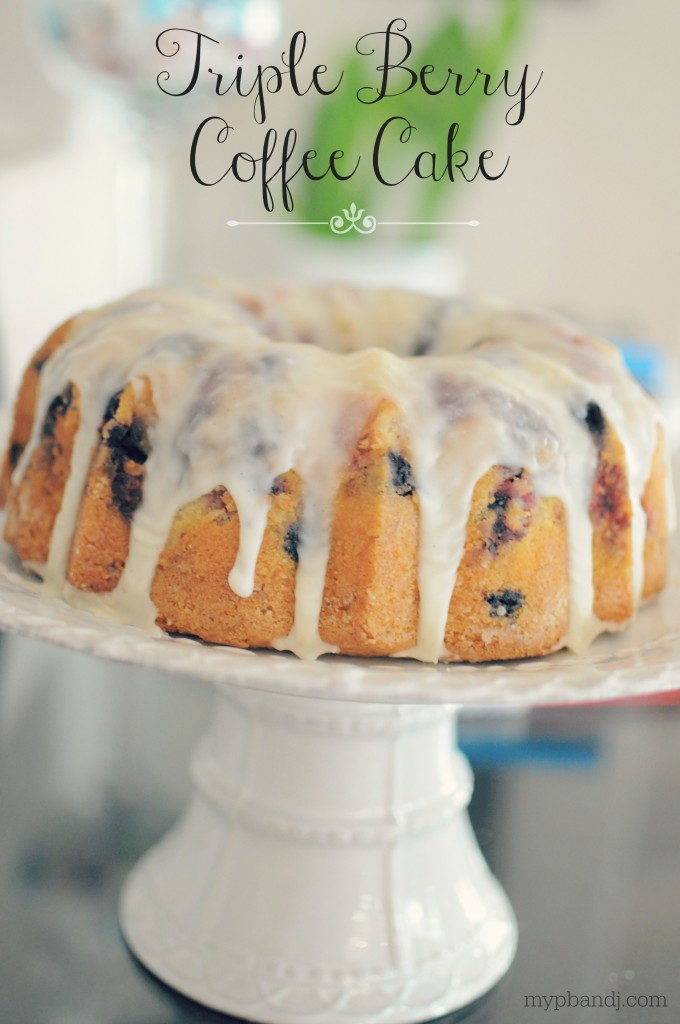 It's no secret that I have an addiction for triple iced espressos served over ice with a splash of half & half. I will seek out my favorite coffee houses for the best variations of my drink. My Mom has her go-to's from Starbucks and even as a baby Payton shared the same love for Starbucks' very berry coffee cake. There is just something about the airy cake studded with fresh berries topped with a light buttery streusel that makes the dreariest of mornings bright. It tastes even better with a bold cup of espresso.
My "copycat" recipe isn't reduced fat like Starbucks' but it is pretty darn close in terms of flavor. I have made a few versions and this one was the best! This version skips the streusel because I wanted a lemony glaze instead. I hope you enjoy it just like my family does.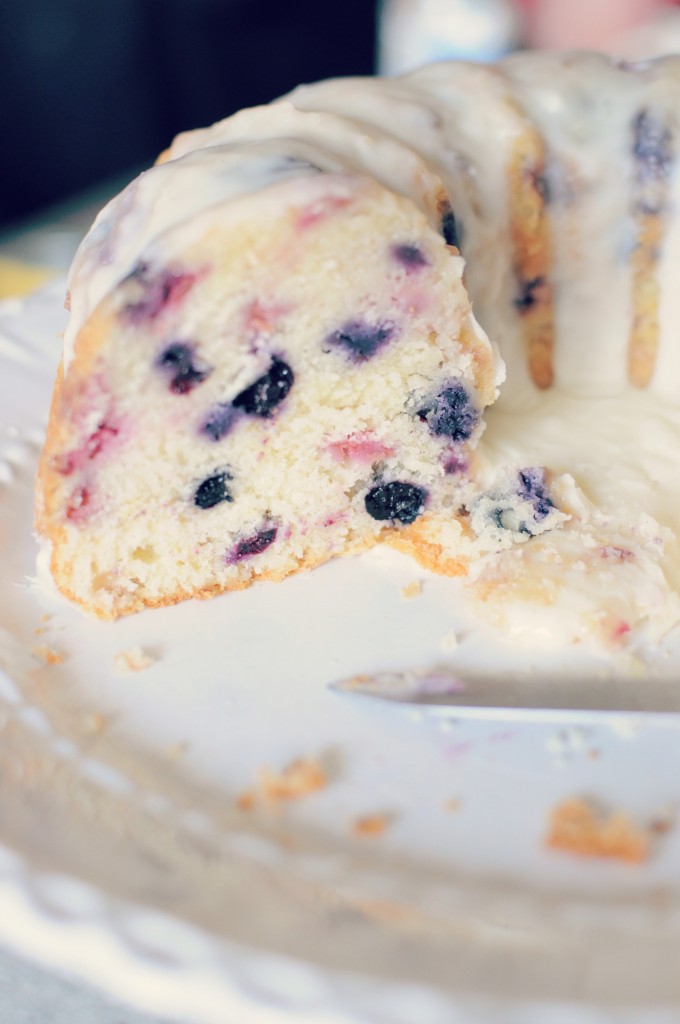 Triple Berry Coffee Cake
A copycat version of Starbucks' very berry coffee cake.
Recipe type:
Breakfast & Breads
Ingredients
For the Loaf:
¾ cup all purpose flour + 1 tablespoon
¾ cup cake flour
2 teaspoons baking powder
½ teaspoon kosher salt
1 cup plain greek yogurt
1 cup sugar
3 large eggs
2 teaspoons grated lemon zest
½ teaspoon pure vanilla extract
½ cup vegetable oil
½ cup blueberries
½ cup blackberries
½ cup raspberries
For the glaze:
1 cups confectioners' sugar, sifted
2 tablespoons fresh lemon juice
1 tablespoon milk
Instructions
Preheat the oven to 350 degrees F. Generously grease bottom and sides of bundt pan; dust with flour, tapping out excess.
In a medium bowl, sift together flour, baking powder and salt; set aside.
In a large bowl, whisk together the yogurt, sugar, eggs, lemon zest, vanilla and oil. Slowly whisk the dry ingredients into the wet ingredients. In a separate bowl, mix the fresh berries with the remaining tablespoon of flour, and fold them very gently into the batter.
Pour the batter into the prepared pan and bake 50 to 55 minutes, or until a toothpick inserted in the center of the loaf comes out clean. Let cool in the pan for 20 minutes before removing cake to a wire rack on top of a baking sheet.
While the loaf is cooling,
To make the glaze, in a small bowl, whisk together the confectioners sugar, the lemon juice and the milk. The mixture should be thick but pourable. Add up to another tablespoon of milk if the mixture is too stiff. Pour the glaze over the top of the cake and let it drip down the sides. Let the glaze harden slightly before serving.