Brayden has been a super eating machine lately, though you cannot tell because he isn't gaining weight. He is just constantly going and has inherited his daddy's fast metabolism. When he isn't grazing, which seems like all day he will sit down for a meal. Typically he will grab a handful of his food and then move on. Last night I decided to introduce our
Nûby
fun-feeding bowl and easy-grip fork to see if it would help him slow down.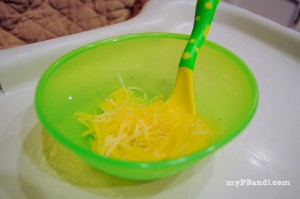 For our dinner we were dining on spaghetti squash with brushetta sauce. It could have been difficult for him to use the fork especially since it was his first time using a utensil to actually eat with versus play. He took a look at the brightly colored bowl and fork and let out a, "OHHHH!" I think he was pretty excited about the new addition to his high chair tray.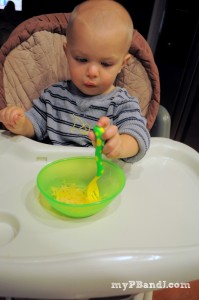 The handle on the fork was easy for him to grip and he could easily maneuver the fork into his mouth with a good amount of spaghetti squash in tow. My big boy was totally loving his new independence and the curiosity that came along with using a utensil.
These items are very durable and will withstand being thrown, not that my angel would ever throw anything across the room but Nûby products are made for everyday use. The fork does come in a starter set with a spoon and one additional set in a different color. The bowl is also available in addition colors and is great for hot and cold food. Both are essential for transitioning your child to independent feeding.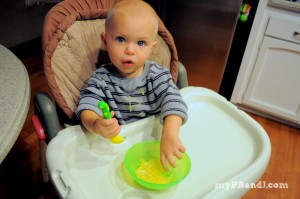 How can you not love this face?!
Do you have a little one about to transition from baby food to solids?
You can purchase the fun feeding bowl from:
You can purchase the easy grip starter set from:
disclaimer:
I received the products listed above for review purposes only. However, all opinions expressed are 100% my own and I only recommend products that I would personally use or believe my readers would enjoy.