About a month ago I had lunch with my best friend at True Food Kitchen. We had the most amazing Mediterranean quinoa salad paired with to die for veggie pasta dishes. Since that meal I have been craving that simple and refreshing salad. The ingredients have been in my pantry and refrigerator to add the salad to our weekly meal plan but I never seemed to make it until last night. It was my Mom's first quinoa dish so I was a little worried she wouldn't care for it, but surprisingly she did and went for seconds! It's so easy and can be made ahead of time to enjoy for an easy weeknight meal or for lunch throughout the week. Serve alongside a light pasta dish or a steamed artichoke.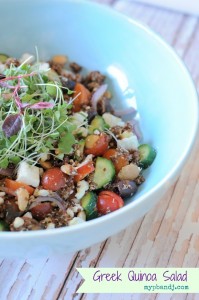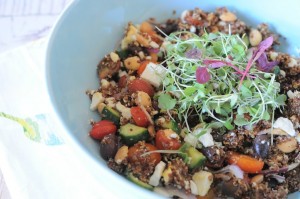 Greek Quinoa Salad
1 cup red quinoa cooked according to the package directions (I like to replace the water with vegetable broth and I add fresh chopped garlic)
2 Persian cucumbers, cut lengthwise and then sliced
1/2 cup mini heirloom tomatoes, sliced in half
1/2 cup Marcona almonds
1/2 cup kalamata olives
1/4 cup thinly sliced red onion
1/2 cup feta cheese
1 cup organic micro baby greens
Dressing:
Juice of one lime (a lemon will do too, it's just what I had)
1/2 teaspoon oregano
1 TB extra virgin olive oil
Directions
Once you have cooked the quinoa let it sit for a few minutes. Combine the dressing ingredients into a small bowl and toss over cooked quinoa, set aside.
In a large serving bowl mix together the remaining ingredients except for the baby greens. Toss the ingredients and then add the quinoa. Refrigerate for at least thirty minutes before serving. The longer you let this salad sit the better. Before serving top with the micro baby greens. These greens wilt relatively fast so I like to top the salad with it.
Enjoy!